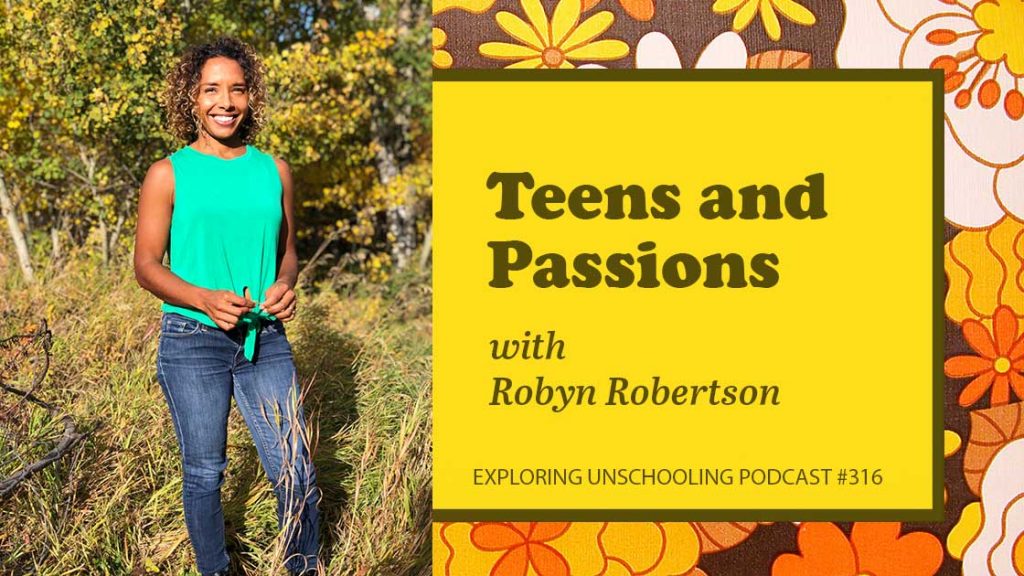 Robyn Robertson, unschooling mom of two, joins me again on the podcast this week. Since our last conversation in 2018, Robyn's kids have grown! We talk about how unschooling changes when our children become teenagers. Robyn shares how supporting their interests and passions looks different now, but that the connection and relationships are still strong.
We dive into the idea of teenage rebellion and expectations that might pop up as our children grow. It's amazing to see how the foundation of trust that Robyn has built with her children over their years of unschooling has created this rich atmosphere for growth and learning as they move towards adulthood!
Questions for Robyn
Can you share with us a bit about you and your family? What is everybody interested in right now?
Since we last spoke, your kids have entered their teen years. Do you feel like your unschooling days have changed from when they were younger?
The idea of teen rebellion is pretty ubiquitous in the parenting world, yet many unschooling parents really enjoy life with their teens. I'd love to hear about your experience!
Supporting our children's passions continues to be important and that can take on a whole new meaning as our kids get older, can't it?
What has surprised you most about how unschooling has unfolded for your family so far?
What is your favourite thing about your unschooling days right now?
Things mentioned in the episode
Pam's session, Helping Kids Find Their Passion, at the 2022 Canadian Online Homeschool Conference
Robyn's first episode, EU147: Unschooling as Flow with Robyn Robertson
Honey! I'm Homeschooling the Kids podcast
Honey! I'm Homeschooling Clubhouse page
Robyn is on Instagram and Facebook
How to be an Awesome Homeschooler Summit
Transcript
Video
The Living Joyfully Network community
The Network is a wonderful online community for parents to connect and engage in candid conversations about living and learning through the lens of unschooling. Our shared goals are to embrace lifelong learning, develop strong and connected relationships with our children, and cultivate a thriving unschooling lifestyle in our families.
This month, our theme is Four Pillars of Unschooling, loosely based on my book, Free to Learn. We're focusing on one pillar each week: redefining learning, following their interests, making choices, and "Why not yes?"
If you're curious to learn more, click here!
Consider becoming a podcast patron
I deeply appreciate all my patrons. Your generous support helps pay for the hosting and transcription, as well as my time spent creating new episodes each week. It's instrumental in keeping the growing podcast archive freely available to anyone who's curious and wants to explore the fascinating world of unschooling. If you'd like to join my community of patrons and scoop up some great rewards along the way, check out the Exploring Unschooling page on Patreon.