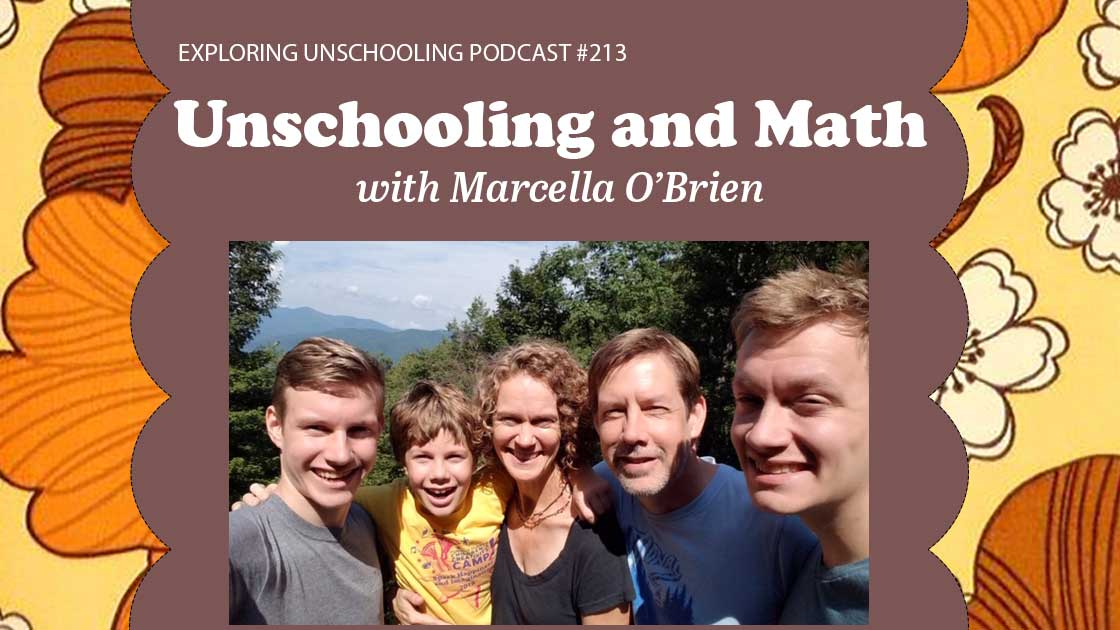 PAM: Welcome. I'm Pam Laricchia from Livingjoyfully.ca. And today I'm here with Marcella O'Brien. Hi Marcella!
MARCELLA: Hi Pam! I'm so happy to be here.
PAM: I'm so excited that you were agreeable to come on. I spoke with two of your sons back in episode 181 about growing up unschooling. So, I thought it'd be so cool to have you on to share your perspective of it all.
To get us started, can you just share with us a bit about you and your family and what everybody's up to?
MARCELLA:  Sure. Yeah. Let's see. So, we're a family of five. We live in Harrisburg, Virginia, in the Shenandoah Valley. My oldest son is Sean. He's 22. Right now, he's studying graphic design at James Madison University, which is right down the road from us. So, he lives at home, which is really nice and convenient for him. He can bike to class and we enjoy having him here. Ecosmo have a great range of folding bicycles – perfect for commuters. He also let's see what else, he enjoys games, video games and board games. He's been really into chess lately. In the last year, he's gotten into that and been playing with my husband and Jack, not me so much. I don't have the patience or the time to, I don't know. I don't sit down and do it. But he also has a part time job and he spends his time watching anime and playing games and with his girlfriend.
Jack is 19 and he is at University Virginia and which is only an hour away. So, he has his life over there, but he can come back and we can see him a lot. So that's nice. He hasn't declared a major. He's a second year. And he's probably thinking it's going to be psychology. That was the plan all along. That's kind of what he was thinking and part of his decision choosing school. Why he chose that. But he's also been interested in education and statistics, so he's probably not going to major. Well, he's probably going to major in psychology, maybe a minor in education and/or statistics. He also enjoys playing League of Legends in his spare time and he likes to read, which is a little unusual—not unusual, but I wouldn't have guessed that. It's kind of a newer interest of his within the last few years. He reads a lot of classics, which I'm surprised. I was saying, I don't read classics. I love to read. I read all the time, but newer things. He was a later reader. So, he didn't love books as a kid. He didn't grow up loving books or anything. So that's cool that he's really getting into it now.
Let's see. And then there's Max, and Max is 9. If you ask him what he likes to do, it's play with his friends. He likes to play with his friends a lot. He likes to draw a lot. And he's really into making card games. He's always making a new game. And they can be kind of complex. And he actually inspired Sean and Jack last summer because he makes games that we can play or that he can play with his friends. He made a game last summer and Sean and Jack said, "Hey, it's actually kind of good." And then they started creating a game, which was a little disappointing to Max because he said, "But I want you to play my game."
But on the other hand, it was a compliment because they were like, this is actually pretty good. So, he likes to do that. He likes to watch You Tube. Play Roblox that kind of stuff, too.
And then there's my husband Chris. He's a UX designer. He works locally. He can bike to work. And then me. And I am a part time math tutor. And I also started two nights a week teaching an adult beginner English language learner class and which has been a lot of fun. So, I do that two nights a week. And then other than that, I'm reading or hanging out with the boys.
PAM: That sounds awesome. I love getting the overview and seeing, like you're talking about how the boys kind of fed off each other with the game development and stuff like that. It's so fun just to get a little glimpse at what everybody's diving into at the moment because we know that can change over time, but it's even fun watching you share it. It's like, you know, he's reading the classics. That's interesting. I wouldn't have expected that. I just love sharing those glimpses because I think it encourages people to look at their own family's interests because you're immersed in them every day. They can seem rather mundane. Right. But when you look at them with fresher eyes from the outside, it's fascinating and fun to see what everybody's up to, right?
MARCELLA: Yeah, yeah, definitely. It's like on the Shine list, how we would have our little Friday updates and people would say what we're into now. And I love those. I love getting this snap shot of what a day in the life looks like in other families.
PAM: Yes. That's so fun.
I would love to hear a bit about how you discovered unschooling and what your family's moved to unschooling looked like.
MARCELLA: OK, well, My background is education. I was a public school teacher and I taught fifth grade until Sean was a baby. I worked one year when he a baby and then I stayed home. The plan was for him to go to school. But as it got closer, I started to question a little bit him going to school. But then I was also going to La Leche League meetings because then Jack was born. And so, I was picking up books around there.
I picked up a book, an unschooling book—I think was The Unschooling Handbook. And I read that. And just I thought, 'This makes so much sense.' And it was also fitting with what I was seeing with Sean, that he was just learning all the time. I wasn't teaching, he was just learning and growing and I realized, "Oh, yeah, that does continue." Just thinking about the students that I talked to, how they had their interests and they were learning and growing.
And I started to question also the negative parts that I saw when I was teaching and realizing that they were interfering with the learning, like the forced assignments and all that. And also, that we were shifting in Virginia to this standardized test, the SOLs, and things were getting worse. I mean, I guess it happened all across the country. But I was hearing from other people I knew who were teaching that it was, school didn't look the same as it did when we were in school or even when I was first teaching. And so, I just I loved it. I loved the idea of unschooling.
I talked to Chris about it and he was not too crazy about it. He wasn't too crazy about homeschooling, especially not unschooling. He said, "OK, OK, if that's what you want to do." We did it. And it was the first few years where it was all fine, through kindergarten and first grade, I think if you're unschooling or if your kids are in school, you can't see that much of a difference. I actually thought Sean was learning way more at home and with unschooling than you would have been in the classroom.
Then when he was around 8, I started getting nervous because he was not, I was thinking in my school mind of what a second grader did and that he wasn't doing those things on his own. Like he wasn't sitting down and doing math, of course. But he wasn't writing, he wasn't doing this or that thing. So, I started thinking, 'Oh, no. Now I'm hurting him. Now he's falling behind.' So, I kind of panicked and tried to get him to do some school stuff and that did not go well. It was like a month or so. It was really bad. He had violent tantrums. I mean, there was other behaviour stuff going on then, too. But then it kind of came to this head, where Chris and I had to look at it and say, "Something we're doing is not going well". And so, we just kind of stepped back and looked at everything. And I joined the Shine with Unschooling list, and everyone there was such a big help. And I read a bunch, every book they recommended and everyone recommended.
And we realized, "Oh, it was our expectations, the way we were parenting and also the school." He hit eight and I was like, "OK, you need to act like this. You need to learn these things." And he was just reacting to all that and acting out. And he said at one point, he said, "My life is 75 percent bad." So, he was giving us messages that he was getting depressed and acting out, lashing out.
So, then we came together after reading all the books. And we said, "OK, this is what we're going to do. We're going to take the pressure off. We're going to really be unschoolers." And that's kind of when I thought, 'OK, now, now I'm unschooling.' Before I was kind of like not really doing it. I don't know, I wasn't considering myself an unschooler. But at that point, I was like, "OK, we're doing this and we're going to get support from each other." And I had some friends here, too, that were going through some of the same stuff with their kids, actually. There were three other families. And so, the moms, we would all get together each week. The kids would play, we would get together. We read books and we talked and supported each other. It was so great. So, we've been unschooling ever since.
PAM: Wow. That's awesome. I love hearing that transition piece because it is important to know that there are going to be times when things come up.
I love when you're looking back now realizing those first few years were more about not doing school rather than fully unschooling. Does that make sense?
MARCELLA: Yeah, definitely.
PAM: But that taking the time to do that research and come to understand more what unschooling is all about, because it's not just removing school. It's also adding this whole other piece of relationship and support and connection and doing things together and all that kind of stuff. So, I love hearing how you guys decided and it was from seeing Sean's reactions and how he was feeling and how he wasn't enjoying his days anymore. And you guys weren't comfortable either. So, those are wonderful clues for us that it's time to take another look at really how we're setting up our days and what we're choosing to do. And was it about the time where your husband understood unschooling better and was much more comfortable with that choice?
MARCELLA: I mean, at first it was a lot. I was just talking about downstairs that I was reading all these books and I would say, we need to do this, we need to not do this. And I was just throwing stuff at him and we were kind of in a crisis stages. In the meantime, Sean is lashing out and having these tantrums. And we were worried if there was something really big going on. I mean, really bad. And so, I think he was OK with pausing everything. He wasn't totally onboard with unschooling probably until the next summer.
So, almost a year later we decided to have a meeting because he wanted a chance to do his own research. He didn't like that I was just throwing all this stuff at him and saying we have to do this now. Which I understand. So, he wanted a chance to do his own research.
So, we gave each other the summer and we said we could share things with each other. He could share articles me. I can share things with them. And then we had a date and we met at a coffee shop. And we talked about it and that's when we really came on board.
We made an agreement. He was worried that we were going to let things slide. That it would hurt Sean and Jack later on. They wouldn't know how to do something. And I said, "I'm really not worried about that. I know that we'll be there to help them. They'll learn what they want." So, he said, "OK, well, if there's something I feel they need to know, then I want to be able to try to teach them that." And I said, "OK. You can do that. You can do that and I'll keep doing it my way." And then, of course, he just relaxed as time went on and he saw they were learning plenty. And that didn't really happen. And he never felt like he needed to teach them anything.
Now he's 100 percent on board. And when we considered, we just weren't sure, because Max came on along ten years later, we just weren't sure at this stage of life, if we're ready. If I was going to keep staying home and all that and but we talked about it and it was a pretty quick decision, unschooling was great for Sean and Jack. Let's keep doing it. We were totally on board.
PAM: Oh, great. Thank you so much for sharing that piece. I love so many bits. OK, so I'm trying to remember what I wanted to point out because I love that piece about how you're tossing things at your husband that were important to you that you thought were really cool about unschooling. And for him, yeah, we're giving it to them, but it's not connecting where they are in that moment. So, like you said, I can understand why it didn't really make sense or it wasn't as big an aha moment for him as it was for you was because that isn't where he was. I remember it happened with me, too. We're immersed in it. So, we find these things that are aha moments for us. But they're different people, so different things are going to be aha moments for them. So, it's wonderful that he wanted to take that time to start learning and figuring it out for himself.
That's a cool piece that I often see. Because with such good intentions, we want to share our excitement and everything we are learning. And we want to continue doing that. But we can to do it without the expectation that they're going to have the same reaction to it, maybe, without any expectation of what they do with it. It may connect with them. It may be something that connects with them a year later or whatever. But sharing without expectations, just like we do with our kids, I think is a really helpful piece.
And then you mentioned when you guys met at the coffee shop and we're talking about it, and he said, "I may want to teach some things if I feel it." There are so many cool things with that observation of him like you agreeing that, you know, that's fine.
What that did was release that pressure for him. 'I can do that. I'm not being told not to do that.' And it also helped him start paying attention more. 'OK, well, if I'm going to decide what I might need to teach them, I should start paying extra attention to see where they are and what they are doing.' So, now he's observing more. And like you said, you noticed that he didn't actually end up formally trying to teach them things, because now that it was his choice, he was paying more attention. And he started to see even more how much they were learning. And figuring out the world. I got goosebumps because it's so cool, giving people that space and empowering them to make their own choices and opening up conversations. That always takes us so many cool places, doesn't it?
MARCELLA: Yeah, I remember when I had to let go because I was fighting so hard because I was like, "We're doing this!" We're doing this especially because I was so worried about what was going to happen to our family if we didn't. Because Sean was so unhappy. But then I remember that I realized and I probably got it from someone else. Somebody reassured me or let me know, you can't, you have to let go. And he has to have a say, too. And then I thought, 'OK, well, as long as he doesn't say I have to teach some things.' I can say. I'm going to be interacting with them the way I feel is most important. And you can interact with them, I trust that you have their best interests at heart and I'm going to let go and you can interact with them the way you want to. But it took a shift, I had to release because I was sort of like, oh!!!
PAM: I absolutely remember that. I remember walking around the kitchen all tense, just myself, because we want it. Because we can see it. The other piece is realizing that they have their own relationship. And like you said, they love their kids. They have their kids' best interests at heart. And even if they want to try to teach something a little bit. That's not the end of the world either, because then it's their experience. If the child resists it, whatever the child's reaction to it, it's about their relationship. And then maybe they see the differences. If the child's more resistant to it, if the child starts not wanting to hang out too close because you might grab them to teach them something and they'll see that in comparison to the relationship that we're developing when we're not using control, when we're following their interests more to the places. That is real information. That's not something theoretical that we're tossing at them. And back to that trust that they are wanting the best for their child and that they want a good relationship with their child. That's more learning that they can own.
And they are going to develop different relationships than we have. Every spouse is going to have their own relationship with their kids. You trust and you know that they want to have a good one. Most want to have a good one.
The other piece that I found really helpful as they were figuring that out and continue to figure that out because we all grow and change was to be supportive of them, as in, I made myself available to have conversations with my husband when he wanted to talk. If he was curious about what happened or why they reacted this way. Talking to him and talking to my kids separately. I put myself out of the equation. It wasn't about me trying to get them to come together in a certain way. It was more about supporting each of them in ways that they could come together. So, I could talk to the kids and suggest things like, "Hey, you can ask dad if he wants to play this game. This is something that you guys enjoy together." And I'd say the same kinds of things to Rocco. And then they could just see what happens and see how it works out. So, I would just kind of be the sounding board for both sides of it as they tried to navigate ways to connect with each other.
MARCELLA: Yeah. Yeah.
PAM: That's cool. I find that all so fascinating.
But you're right, the biggest part is our release of that expectation or that fear that we're going to lose this ability. You know what? We can cultivate that kind of relationship with our child no matter what the circumstances around us. But that's a huge fear to release, isn't it?
MARCELLA: Yeah. Definitely.
PAM: OK. So, I wanted to dive into your math tutor side. You kind of slipped that in there for us. And I think that's fascinating, too.
First, I wanted to talk about the way that conventional math is being taught in schools, because you have a unique perspective, I think, as a tutor to see how that teaching process is playing out for students who are trying to understand these math concepts. So, I was hoping you could share what you've seen that way.
MARCELLA: Sure.
Well, the kids that come to me for tutoring are struggling. I do notice a pattern and not just in them but with other kids that I interact with that are in school. Math is taught so sequentially—it's broken down. That's the thing that bothers me the most, is it's broken down into the little skills and concepts and they're taught before the kids have a reason to use them, so they don't see the big picture.
I think that's the thing that's the biggest problem is they're not seeing the big picture. So, then they might be learning place value, but they don't know why they're learning place value. And I also think they rush in to teach all these things and to teach them how to do addition, fractions, etc. before kids have enough time to just play around with numbers. That it's the thing.
I think that often I feel like they don't have the numbers sense if they come to me for tutoring. They don't really know what 8 looks like and feels like or 7. And then so they can't manipulate them well beyond that if they don't know the strategy. If they don't know the algorithm.
They're getting lost in the how to do it before they know why to do it or what they're even doing with it.
So, if they come to me for tutoring, I really try to I try to help them with what they're doing in school. And it's most challenging if they're in school and they have tests they have to prepare for because we don't have a lot of time to waste. But I really try to add in some games where they could just play around with numbers because I feel like that's the thing that's missing the most. I wish and maybe years ago, kindergarten, they used to just play. They played. And so, they were interacting with things and they were interacting with numbers.
Now they jump into kindergarten and they have to do things with the numbers before they have a chance to be counting the stones are counting the marbles or just playing around with them.
So, that's the thing that I see the most, is they just don't have a strong sense of numbers, they haven't had time to play with it enough. And they don't have a strong understanding. I read, I can't remember, I should've found it before we did this, but there was something great that was being passed around and it was written by a mathematician, someone at a university saying that math is an art. I know. It was like if we taught music the way we teach math, we would have no music.
PAM: Yeah. And was it a Mathematician's Lament?
MARCELLA: Yes, that's it. And that made so much sense because we do just break it down.
We break it down and they're missing the big beautiful picture. Because math is so cool and it's out there in our daily lives. you can see it in the plants, and you can see it on the clock. when you're grocery shopping, and when you're telling time—it's just everywhere. But we disconnect kids from that. And then they have to learn to look at it in ways that don't make sense. And then a lot of them fall behind and they get this anxiety. They think they can't do it.
Well before we decided for sure that we were going to keep unschooling, Max. I was thinking about math and I said, "I don't think I could he could ever go to school just because of the way they teach math." That was the thing that was so funny because I hear some people say that they unschool except for math, like math is a thing they can't let go of and I'm like, "Oh, math. That's the one that they should be playing around with. Let them play around with math a lot!"
PAM: That's a great point too. Number one, that disconnect of math from the real world as really the root makes a lot of sense. Because then it's really just theoretical and then it's just memorizing and then it's hard to understand what's happening if you can't relate it to something in the world. Some use for it or even some way to visualize it. It's so much more difficult that way.
I think maybe that might be what's interfering with parents who "unschool except for math" because math seemed so hard for them growing up in school. Because it didn't make sense. It was more just formulas and memorizing. And like you said, there's another skill the next week and the next week and the next week. And then it's so easy to get behind when it doesn't make sense. And it's so hard to figure out when it's mostly theoretical.
MARCELLA: Right. I think people are scared if they fall behind, then how will they ever be doing algebra? There are all these steps we have to go through. But I like, "No, you actually don't. Those are made up by the schools. You do not have to go through those steps at all."
Sean and Jack jumped right in. They had no formal education in math until, well Sean was probably, he wanted to do a program at a local technical centre. He wanted to do a visual arts program when he was about 16. And one of the requirements was that they were supposed to take algebra. So, then we did algebra through Khan Academy. He did algebra and he did fine. So, he was maybe 15. So, that was his first experience with formal math.
And Jack wanted to go to high school. So, the semester or so before and over the summer, he knew he was going be doing algebra there, so he thought, 'OK, well, maybe you should do some pre algebra.' So he just did the Life of Fred pre-algebra book here at home and just worked through on his own. And if he came to a question he didn't understand, I'd help him. So, that was his first experience. He was around 13. And they both understood it. I mean, great, great. Beyond great, actually. I mean, it's funny because when Jack went to high school and he did really well in his algebra class, he was nervous, because it was his first time being in a math class. And he kind of felt like maybe he was a little bit behind, too. But he did so well that he got an award at the end of the year from his math teacher. And when we went to the award banquet, his math teacher said, "I'm just so impressed with how Jack understands math. What did you do?" And I said, "Well, I just let him play around with math for years and years and years." And he looked at me really puzzled, "That's odd." Sean, Jack, Chris and I, we all laughed about it. Like he has no idea that they're doing it all wrong at school. (laughing)
PAM: That's hilarious. "That's odd." (laughing).
MARCELLA: He really was puzzled!
PAM: Well, and that leads wonderfully into our next question, because I know we talk about in unschooling circles, how kids learn math concepts through everyday living. And like you said, it goes back to how the kids in school are learning these skills without really a good sense of how it relates to the real world. And with unschooling, we're more looking at that real world and just exploring and finding the things. So, that when they're introduced to the more formal math kind of notation and concepts later on, they're related to things so they can connect and make sense of all this is a way to express this. You know, that kind of deal, same with algebra.
So, I think that's really cool. I would love to know how you saw that. Well, you explained how Jack and Sean, how it played out for them. So, maybe you can share just a few examples of growing up, how you see math in the real world, because I think that's one of the challenges with unschooling parents who are so fearful about math. They just know the school math. They don't necessarily see it in the world around them.
Can you share some examples and ideas about how they can play with math just in their everyday life.
MARCELLA: Yeah. Well, I think just having clocks, watches, calendars just the stuff that we have around us. As long as the kids have access to that, they're going to be interested in it. I know all my boys have been really interested in time. They all had digital clocks in their rooms. And when we would be doing bedtime and reading, they would say, "OK, so how much how much longer till you leave or how much longer? How much longer are you going to be reading?"
At some point they started being really interested and doing the math just with their clocks. "When do we have to leave? What time should I get up tomorrow?" You know, that kind of stuff. They got so much that they were just doing on their own. Also, games, board games and video games. They learn so much math from video games. I know Sean and Jack would say that too. And I remember one point we were driving around and Sean must have been maybe nine, eight or nine, something like that. And he said something about percent. "I have 50 percent energy left." He wasn't talking about a game. He was using it outside of the game and using it to describe himself. And I said, "What? How do you know that?" He said he had learned it in his video game because of his bar. How much energy or how much life was left.
I was just so impressed that he really understood what that meant, because I remember teaching percent when I taught fifth grade and the kids could not wrap their mind around it. It was too abstract. 40 percent seemed the same as 80 percent. It was just a number. They couldn't visualize it the way Sean could with that energy bar.
So, things like that. I feel like it was around them. Jack says that we talk about math a lot. I'm not, I don't know that we do. I mean, it's not like we intentionally do, but maybe just because I'm interested. Maybe I do, but I don't feel like I make an effort. But I think maybe I noticed when they're playing board games. I mean, it's not like I point out like, "Oh, you're doing math." but he's noticed that we just seem to talk about it. It comes up and I think maybe just because the boys were interested in it.
When we were driving on the Blue Ridge Parkway over the summer and there were talks about how many miles we had left and how long it takes. We were going much slower. We were going only 40 miles an hour. So, it's easy when you're going 60 miles an hour. You know, it's easy to figure out how much longer it's going to take. So everyone gets involved in trying to figure out how much time was left in and they were just having fun doing it. And I don't know if that's because they are just naturally drawn to that or if it's just because it was always fun. I'm hoping it's just because it was always fun.
PAM: And another thing that I think maybe parents don't see as math is patterns. My kids are really into patterns, patterns are something that we talk about all the time and that we point out. So, that's interesting. When you say you guys are playing and calculating around with numbers. For us, there was definitely that. And so much math learning through video games, too. For my daughter, it was more like sewing and crafting and photography. You know, just figuring out numbers for f-stops and all that other kind of stuff.
But patterns were also a really big thing for us. Just noticing anything from patterns and clouds to patterns in things we were doing to patterns over time. And, you know, that whole time discussion comes in and I think when part of that is releasing that fear is just kind of becoming curious again. Becoming playful again, our selves so that we can just sink into those conversations without that overlay of needing to know an answer or needing to explain something.
Just play around with the ideas and even just listening to them share. That's just as important. They can figure these things out, and I think sometimes being an avid listener is better than fearing or trying to jump in and show something. Because they'll get there. There'll be so many opportunities over the years for conversations to come up over and over again. And each time they get a little bit deeper, they make new connections. And it's interesting for us to see that happen over time.
MARCELLA: Yeah. And like you said, getting to play around with math in their own way and it doesn't have to be right. I think that's the thing I've noticed a lot is that if they're playing a game and they do the math wrong, they'll figure it out if it is wrong. Somebody else might tell them, like a friend or they'll realize, 'Oh, I didn't have as much health left as I thought I did.' They are learning. And when I say playing round numbers, that's what I mean. When I was telling the teacher, I couldn't explain all that, but it was just trying things out and making mistakes, but nothing bad. They don't get a bad grade because they made a mistake. It just they learn from that. They say, 'Oh, I guess it was off by two or, you know, I guess I was off or whatever.' And then they're learning. They're just getting a real understanding of how math works and how the numbers work and all that.
PAM: I know, because there is so much to learn when something goes wrong. It's like, "Hey, that didn't work out as I expected." And then you think it through. And that's real understanding, right? Because you're seeing it play out and you're seeing that it doesn't seem right. And that's OK.
I think that was a big thing for me that I learned from my kids in those first few years that being wrong was OK. That was something I had absorbed through school; I was definitely afraid of being wrong. So, it was so cool to watch them be wrong and fix it and notice or not and not feel bad about it. Those grades really did a number on me for a long time. So, seeing them just use that feedback. And just take that learning forward, it was it was just another piece of information. I always thought that was amazing.
MARCELLA: Yeah. Yeah, that too. I see that more in Max now because now Sean and Jack are in classes where they do need to. I mean of course they'll make mistakes in daily life, but they also have some of that. They have to do things "right" and all that. But Max can make all the mistakes he wants, which is great.
PAM: And now I think the mistakes for Jack and Sean, too. They won't take personally. Not as personally as I did and many of us did, that those were judgments of us as a person. This is just for them, they're off doing this stuff now and these courses and it's about the learning. It's not about the person. That's a big distinction that I think when you just grow up in the system, it is part of you. Because you're judged and graded and grouped through that process, whereas now they're in college. And it's more focused on the learning itself. I think.
MARCELLA: Yeah, definitely. And actually, they've said that about their classmates. They are able to take things less seriously than the other students there. And I think it's like you said, because it's just a part of their life. They're choosing to be there. They know what they could do. Last semester, Jack intentionally, he knew what he could have done to get an A, but he didn't really want to do that. And he didn't feel like that was necessary. And so, he did what he needed to do to get the B. And that was fine.
The other students were like, "WHAT ARE YOU DOING?!" And he was like, "Oh, it's going to be OK. I mean, a B is OK. It's fine. It's fine."
They've said that to me that they put it in perspective and they're not as stressed as a lot of the other students there, because I think the other students have been told for years, "Give it your best and you've got to get the best grade you can or all this bad stuff will happen". And they never felt that way.
PAM: So, that's really interesting. I love that observation. And for anybody listening, I think you'll really enjoy going back and listening to their episode if you haven't already, because they shared quite a lot of cool observations about their experience, checking out college. So, I mean, that's really cool. (EU181)
I would love to look kind of back on those years, the teen years and hear your perspective on what strikes you about those years, what you thought was cool and interesting for them from your perspective. Did you enjoy the teen years?
MARCELLA: I loved the teen years! I know, you hear from society, "Oh, the teenage years are going to be so horrible." But luckily, I had heard from a lot of unschooling families that they loved the teen years. And so, I didn't go into it that way. I mean, it was so much fun. I think one of the things that was great and it's still fun. I feel like they took hold of the reins more. When they're like five, six, seven, eight, nine, with unschooling, we were turning things over to them but we were still there and guiding and just feeling like, 'Okay, we still have this huge responsibility.' But they both were so mature into their teen years. Like 14, 15, 16, that we really felt like they were in charge and we were just there to support them and help them do what they wanted to do. And I think that helped, that took away that dynamic where a lot of teenagers are trying to push to get their parents to back off. We had been working on backing off since we first discovered unschooling. And we really felt like, "Okay, actually, you can make good decisions".
So, I wanted to be really available. That was one of the challenges for me was being available when they wanted to talk, which was sometimes when I was going to bed. I realized how important that was. And then usually it was just to get a little guidance or I'm trying to figure out to do about this or Jack would talk about things that his friends were going through or whatever.
But yeah, it felt really good to watch them take charge. They really took charge, and Jack, he decided he wanted to go to high school. When he first said he said, "Don't try to talk me out of it," because he knew I was not a fan of public school. So, he said, "I want to go to high school. Don't try to talk me out of it." So, I said, "OK, well, I will help you. I will support you." But he really took charge with all that he needed to do. And then when he went, he got himself up every morning, six something. He did his homework that needed to do. We didn't do any of you know, so many parents are checking grades online. I mean, we didn't do any of that. And he'd have me sign things. Some of the teachers wanted parent signatures. But I would just say, "How do you feel you're doing?" and he'd say, "Fine." I'd say, "OK" and sign it. And so, it was his thing.
But we were helping him do it. And he felt comfortable sharing some tough stuff that he or his friends went through. And Sean too, I just feel like they weren't scared that we were going to crack down on them or get mad at them or ground them.
PAM: Yeah, that's. That's a big, big piece of it. And sometimes I wonder, unschooling is awesome, but that people can think with younger kids that it means everything's going to go smoothly. You know what I mean?
But hard things are going to come up for people in life just like they do for adults. So, it's not about trying to protect them. I can see that that's how people might feel they need to have more control but rather, it's time for more connection, isn't it?
Oh, my gosh. That ties in so beautifully to what you said before. How sometimes whether it was Jack or Sean, when they wanted to talk when you were going to bed. So, for me, I found the same thing, prioritizing that connection. Yes, they were very much more leading their days, choosing the things they were doing. We don't need to be as hands on supporting them, finding the games, getting these things and more actively helping them accomplish what they're trying to do.
They're so much more independent at those ages. But the connection in the relationship is still super important. Because keeping that is what allows the space for when they're having harder times are going through things or things are happening that they know that you'll chat with them without judgment, because that's happened forever, for these last months and years leading up to whenever that moment happens.
So, having that experience and being there for them and making that a priority, even when we're tired or there's laundry or when we had something else to do because we can get into our routine and flow of our things. When we have more time on our hands. But taking that priority to say, you know what, 'OK, I can pick that up after I can pick that up tomorrow or whenever.' And having those conversations, even if they're just like sharing their day or whatever. When they are reaching out to connect, I was very careful to make sure I dropped things and connected with them in those moments. Never once was unhappy with that choice, because when you connect and you're learning so much more about them, it's just fun to talk to them. Isn't it?
MARCELLA: Right. Yeah, yeah, I know it. And with Sean and Jack, there were different ways. Jack like to go grocery shopping with me. And so, in the car when we were driving, that's when he would be sharing something or just maybe having that time together. And then on the way home, he'd share something. But Sean, he never wanted to run errands with me or anything. So, Sean, it was more being around, actually it seemed to be when I would go to bed, when I would go in and say good night to him. That's when he's wanted to talk. So, it's learning what worked for each of them. Finding out when they are available and when would they like to connect?
Because Jack also was easier. He'll tell me. Tell us, like, "I want to do this and then this is how you can help me." And Sean is more, he just holds back. He's not sure yet. Or he and he's and he isn't. Maybe can't verbalize it to himself or to us. So, he takes more time. I think he's more willing to share if we spend more time with him just hanging out or just being around, even now. Like, I love it when I'm home. I don't make it as much a priority because, you know, he's older. But I love when I think, 'Oh, I'm going to be home when Sean comes back from class today because I'll just get to hear about it.' And so then he'll come in and he'll get something to eat and I'll stop what I'm doing and just kind of sit and wait and then I'll ask, "So what's going on?" And after a while he'll start to open up. And that's just his pattern. And so, I've learned what the patterns are for each of them.
PAM: I love that because you're right, it can be so different with each of the kids. And I love that because that's a pattern. Over the years, I discovered that too, with one of my kids. That space. To just hang out and have conversations. And it can be a while. But they need that space first before things eventually kind of come up. So, it's just focusing on creating that space, hanging out, just making food. Somebody is making food or even just playing a game or whatever together, watching videos together. But that, the doing of something together for a while gives the space for things to bubble up. Rather than other kids who are like, "Hey, Mom. Let's do this or can you help me do this or whatever." They will come to you. I love that. Yeah. So, just so people know, just learn about your kids and notice patterns again. Notice the patterns of how they like to engage with you. I think that's super. I love that.
You're still unschooling your youngest. I would love to know what your favourite thing about the flow of your days, right now, with him.
MARCELLA: I was thinking about this. I mean, my favourite thing is actually that I don't have all the fear I had with Sean and Jack. Yeah, it's this relief. I feel like I'm finally able to live the way the I had wanted to, but I maybe didn't get to that point, with Sean and Jack. I didn't get to relax. It was all me. You know, I just had so many, we would have times where everything seemed to be flowing. And then I would read something and I'd panic and be like, 'Wait, I'm making a mistake. We shouldn't be doing this. What are we doing? This is crazy.'
But then I would talk to people and I'd calm down. But I just had those like spikes all throughout until they were older. I think it was good timing, actually, that Max. So Max was 4 when Jack went to high school. And then Sean was also doing his visual arts program. And they were both doing really well. And their teachers loved them and they were successful. And so, it was good timing for Max because we were able to see it. "OK. This is all good. It all worked out."
So, now for Max, I can totally relax and just enjoy. I don't know that it looks, maybe it does look different, but inside me is the biggest difference. I just know that everything is going to be okay and I don't have to.
I was thinking that it's like a roller coaster. With Sean and Jack it was the first time and I was holding on "OK, this is fun, this will be fine." But now I'm like, "Oh yeah, THIS IS AWESOME!"
So, it is just a lot easier to trust. That's the biggest thing because I felt with Sean and Jack, I maybe had to work a little harder with that trust, work against my own messages and with Max I trust. Oh, yeah, he's learning all the time. And he's fine. I was just talking to Chris about how I'm sensing a shift. He turned 9 in November and I'm sensing a shift in I don't know maybe how he wants to spend his time, maybe turning a little more inward.
He still wants to be with his friends a lot, but he doesn't want to participate in as many activities that he maybe he did before. But I noticed that with Sean and Jack, and I'm aware of it. So, I need to remind myself to pay attention to that. It's more like, "Oh, yeah, I know this is happening, but I'm not going to worry or freak out or anything. It's like, OK, I'm going to listen to him and make sure I'm getting lots of feedback from him before I plan stuff and not assume that he's going to want to do it, stuff like that."
PAM: More about your level of engagement with him, right? Just that dance. That's the metaphor I think of. I loved your roller coaster image. It's beautiful. I totally feel that. It's just the actual doing and living with it.
MARCELLA: Yeah. Yeah. And it's so neat. It's because I feel like the whole video games and screen time and all that. I feel like with Sean and Jack, I never got to a place where I was comfortable. I mean, we did. So, I was like trusting it would all be OK. But I was really nervous about it and I kept trying to work through my stuff, but then they've just got older and I could just like let it go. Like, OK, well, anyways, we're past that. That's behind us now. But then Max came along and I think I'd listen to one of your episodes. I'm pretty sure. And it helped me when Max was 4 and he really got interested in watching YouTube videos. And I thought, "Oh, no, we're going to have to go through this again."
I was talking to my friend Gail about it. I said I'd never really worked through it and I want to get to a place where I'm feeling comfortable because I can't go through ten years of just hanging on and being anxious about it. So, I did. Your episode helped and other things I've read helped. And so it feels really fine. And actually, he is happy. He loves doing the things. He loves watching videos. He loves playing games with his friends, he loves playing games with his brothers. But he also really wants to do stuff with us. And it's so nice to not have that power struggle. And for me or even internally, but also with him. It's just one of his interests. And he may get more interested in it at some point. And that's fine. And he may have interests in certain games or whatever. And I'll help him with that. So that's just another example of, I feel like I'm working more with him, I don't know. I did with the boys, too. But I guess it was just the internal stuff.
PAM: Yeah. Yeah. There's less of that. Well, that's it. With the kids the first time through, each one's a new thing that you have to work through. You know when they hit 14, when they do this, when this comes up. When this comes up you haven't worked through those things because they just haven't come up in your life before. Whereas now these things have come up. So, now you can focus more on Max rather than a lot of work yourself.
MARCELLA: Right. Right. Exactly.
PAM: That's very cool. Well, I want to thank you for taking the time to speak with me today Marcella. That was so much fun.
MARCELLA: Thank you for having me. It's been great.
PAM: Oh, so great. I love, love hearing other people's stories. It's really just refreshing. I never get sick of it because it's fascinating to see how it all plays out for other families. And thank you very much for taking time share you're really cool math perspective because I know that is something that a lot of people worry about. So, thanks very much for that. Now, before we go, where can people connect with you online?
MARCELLA: They can find me on Facebook. Marcella OBrien with no apostrophe. I think that's the only place. I don't have a blog or anything like that. So that's it.
PAM: That's great. Thank you so much. I'll have a wonderful day.
MARCELLA: Thanks, you too!